New Oreo Chocolate Bars Are A Chocoholic's Dream
Oreo cookies have been around for more than 100 years and it's hard to find a cookie-love who doesn't like them. Aside from being named the number one selling cookie in America since its introduction in 1912, Nabisco has produced many different varieties of the famous sandwich cookie that started out as two chocolate wafers separated by a cream filling, including Pumpkin Spice, Birthday Cake, Lemon, Red Velvet, and even a Swedish Fish Oreo cookie flavor.
Although dozens of special Oreo cookie flavors, as well as shapes and sizes, have come and gone over the years, can we agree that there is nothing better than a traditional Oreo cookie (or maybe a Double Stuf) dunked in a glass of milk (or Almond Milk if that's your thing)?
Well, the answer to that question is a difficult one now that the Oreo Big Crunch Bar exists. It's a candy bar that will make chocoholics, cookie lovers, and candy lovers pretty darned happy. And at a time when the nation seems to be so divided over politics, is there anything better than a chocolate bar that gives us that Oreo cookie high?
You'll have to try it yourself to find out, but let's just say that this is a candy bar that you'll want to stockpile in your secret bunker if you are a Doomsday Prepper.
Take a moment to salivate over this beautiful chocolate creation that's currently sold in Europe and then I'll fill you in one when you can scoop up this amazing Oreo candy bar — and another new variety of this cookie-filled candy bar — if you live in the good ol' US of A.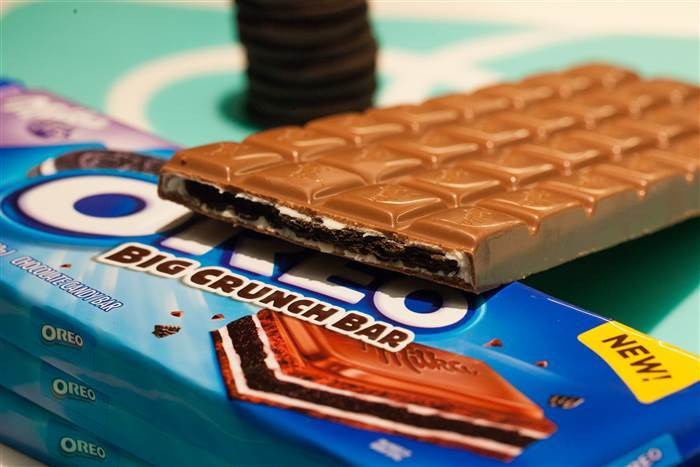 Oreo Big Crunch BarMilka via TODAY
According to Thrillist, the "cookie-heavy" Oreo Big Crunch Bar is basically an inside-out Oreo cookies stuffed into a slab of chocolate that is sold under the brand name "Milka" that is made by Mondelēz International, a confectionary company based in Germany. And it's big — weighing in at 10.5 oz, it's about three times the size of a regular candy bar.
Honestly, who cares where it's made. What's most important right now is when is this bar of deliciousness headed to the U.S.?
Here's the scoop on not only the Oreo Big Crunch Bar but another variety of this chocolate bar that's making me wish I renewed my Passport so I could get one right now — the Oreo Chocolate Candy Bar, which is basically a chocolate bar filled with vanilla creme and chunks of cookie. O.M.G.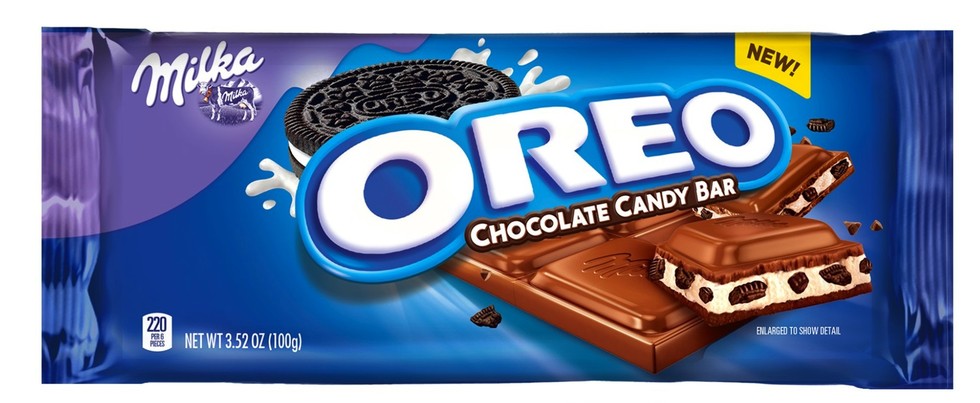 Oreo Chocolate Candy BarMilka
According to People, Nabisco announced on Monday that the Milka Oreo Big Crunch Bar and the Milka Oreo Chocolate Candy Bar will soon be coming to a store near you in the U.S., but it won't happen all at once.
This month, there will be a limited roll-out of the Oreo Big Crunch Bar, so check the candy aisle of your favorite store to see if you can get your hands on this bad boy. It is expected to retail for around $4.99, so you may have to adjust your food budget a bit.
The distribution will be in full-swing in January 2017 along with the debut of the Oreo Chocolate Candy Bar which will be available in three sizes and will range in price from $0.98 to $1.79.
Needless to say, both Oreo candy bars will be flying off shelves here in the U.S. if they are as good as they look.