Stunning Dip-Dyed Wedding Dresses For Your Special Day
The wedding day is one of the most special days in a woman's life. And naturally her dress must be unique and one-of-a-kind because it will be remembered for many years. Since brides usually opt for white because of the tradition, the dip-dyed trend gives them an opportunity to do something different.
The latest ombre style provides a vibrant alternative for your nuptials. This color gives a playful and bright look to the bride without breaking away too much from tradition. You can get this look by either airbrushing your dress or getting it dyed. It gives you a chance to add personality to your dress and has special advantages. You can match your dress with your bouquet or the overall color scheme of the wedding. Also, the color can hide grime if your dress gets dirty.
But if you are still skeptical about how the colors might appear, take a look at these wedding gowns and see how beautiful the dresses can look with just a little color on them.
1. This dress was airbrushed to create a look of dip-dye by the artist and bride Taylor Ann Linko. She decided to go with a sunset color palette to color her dress, which complemented the outdoor venue very well. The bride also dyed her hair in similar colors to match the gown.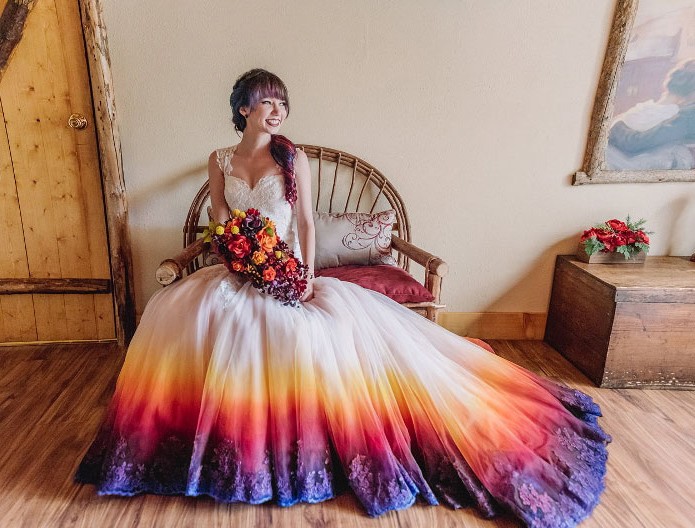 jamestangphotography.com/
2. This dress was created by Lucy Scragg, a bridal designer from the U.K. The blue color adds beauty, excitement and creativity to the dress and allows the bride to represent her own distinctive style.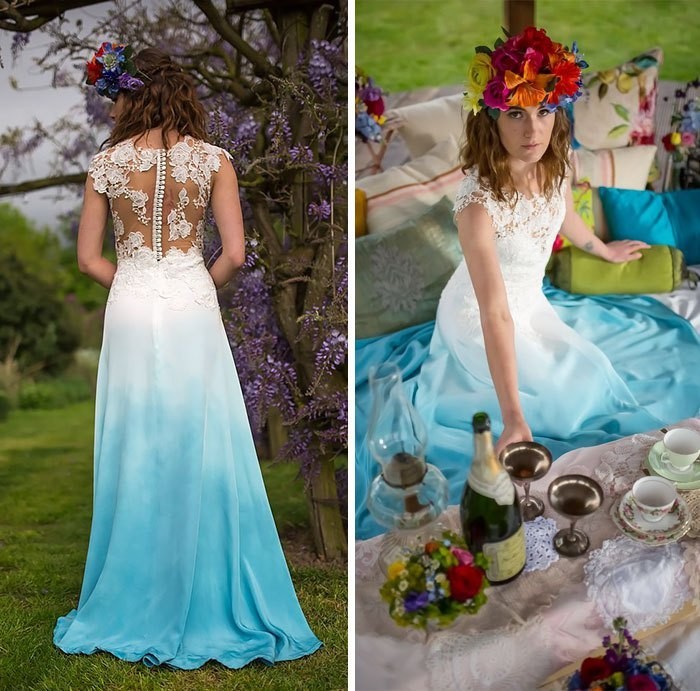 Lucy Can't Dance
3. This dress was custom made by Cleo and Clementine. The soft pink color takes you back to childhood and is reminiscent of ballet lessons. The dress can make you look like a princess on your special day.
[rebelmouse-image 7841301 is_animated_gif=false original_size="700x1049" expand=1 image-library="1" pin_description="" caption="" photo_credit="Cleo And Clementine" photo_credit_src="https://ad.zanox.com/ppc/?30688037C97527843&zpar0=[[com]]&ulp=[[https://www.etsy.com/listing/269868373/ombre-dip-dyed-tulle-ballgown-wedding]]"] Cleo And Clementine
4. This dress can surely complete your fantasy to look like Disney's Mermaid Princess Ariel on your big day. The designer paired turquoise fabric dye to mimic the look.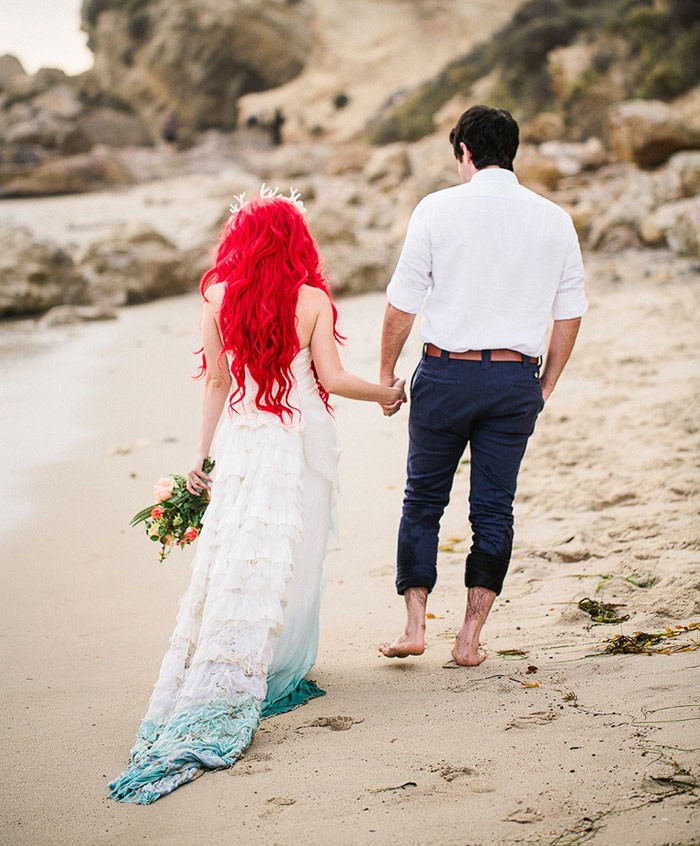 Marc Brooke