Grandma Texts Thanksgiving Invite To Wrong Teen, Invites Him To Dinner Anyway
You know that sinking feeling you get when you realize that you just texted a personal message to the wrong person? Or maybe you went a step further and sent a text to a complete stranger because you typed in the wrong number.
Unless you sent something really personal and/or embarrassing, the person on the receiving end will usually let you know it's not a big deal — it happens to the best of us.
And then there's Jamal Hinton who received a text that just about anyone would like to get — an invitation for a home-cooked Thanksgiving dinner.
Jamal, 17, told KNXV that he was in class when he received the invitation, but he didn't recognize the number. He quickly texted back and asked said, "Who is this?" and quickly received a reply — "It's your grandma."
Maybe his grandma got a new number because James didn't recognize it. To make sure, he asked her to text him a selfie and she replied — but he didn't recognize her.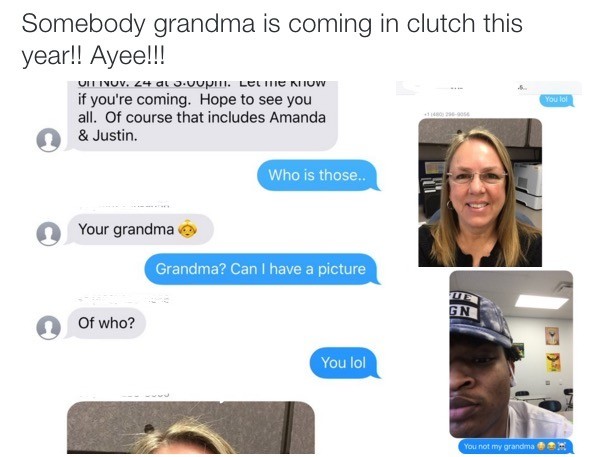 @RonaldDoee Twitter
Turns out, the woman wasn't his grandma at all — she was a complete stranger who texted the wrong person. However, Jamal wanted to make sure she knew he wasn't her grandson so replied to her with a photo of himself sitting in class.
Along with his pic, he asked if it would be okay if he could still stop by for Thanksgiving dinner next week — even if she wasn't his grandmother.
"Of course you can. That's what grandmas do...feed everyone!" the woman replied.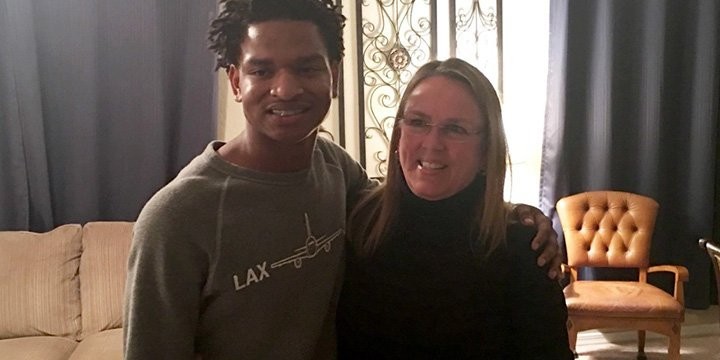 @People Twitter
Jamal thought the woman's kindness shouldn't go unrecognized, so he shared screenshots of the conversation on social media. Unfortunately, he forgot to remove one small details — the kindly grandma's phone number appeared in the conversation he posted online.
According to The Arizona Republic, the woman received at least 600 texts asking for Thanksgiving dinner. As you can imagine, the messages were a bit overwhelming, so the woman named Wanda (understandably, she's keeping her last name private) had to change her cell phone number, but that didn't stop her from staying in contact with the teen she thought was her grandson.
Wanda kept James' number so she could stay in touch and give him her address just in case he wanted to stop by for the Thanksgiving dinner she promised. Her grandson, Brandon, tells tells the Arizona Republic that his family, along with their grandma, Wanda, thinks the whole situation is funny and Jamal and his parents have all been invited to dinner on Thanksgiving.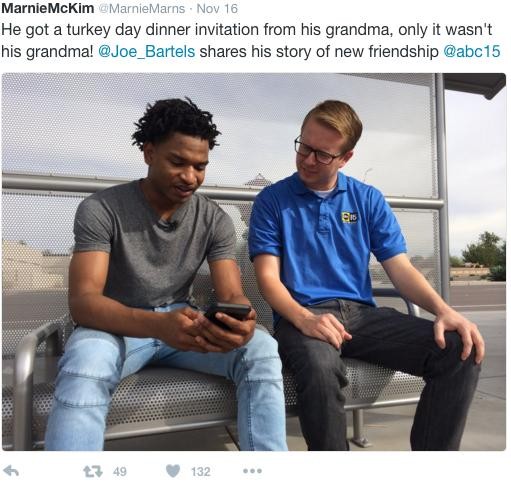 Twitter
"This has come out of nowhere for us, and it's funny to my family," Jamal said. "We're also welcoming Jamal and his parents to Thanksgiving. My grandma's got a big heart, and said she wouldn't want him to be away from his family on Thanksgiving."
And it looks like James has accepted the invitation and will be going to scoop up some turkey at Wanda's house — but not until he eats with his own family first.
"People can actually connect and be so nice to each other with people they don't even know," James told KNXV about the accidental text from the kindly grandma.
Proof that texting someone by accident isn't always a disaster and may lead to an unlikely friendship – or, at the very least, a delicious holiday meal with a complete stranger.