Dying Dog Takes Last Walk On Beach With Hundreds Of New Friends
It's never easy saying goodbye to a beloved pet, and that's why it's so important to make the best of your faithful companion's last day on earth. The animal who has shown you unconditional love through the years most certainly needs a spectacular sendoff and plenty of good old-fashioned love and attention.
That's exactly what happened to a beautiful 18-year-old dog named Walnut when his owner, Mark Woods, prepared to put him down. Although Mark planned to simply take Walnut on a final walk on the beach, he never expected that he would be joined by hundreds of people and their pets to celebrate Walnut's wonderful life.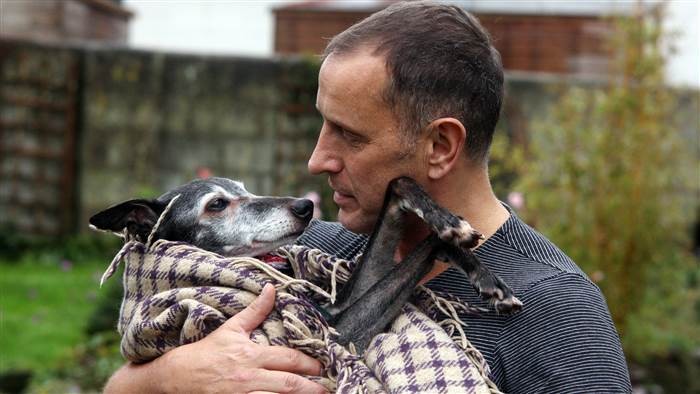 Neil Hope / SWNS.com
Woods, 53, recently told TODAY that he was searching for some emotional direction when Walnut came into his life 18 years ago, and the sweet pup quickly became his constant companion at home and at work. In 2012, they moved close to Porth Beach in Cornwall, England, and quickly made it a regular place to take walks together.
Mark said the beach was a happy place for Walnut who "always loved getting his feet wet and having his toes in the sand."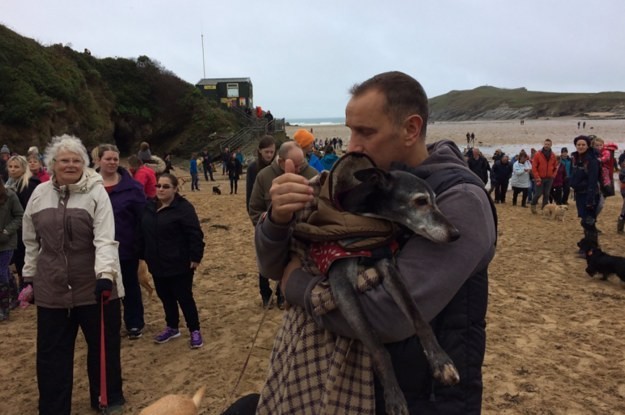 Twitter
So when it came to spending their last day together, Mark thought that taking Walnut on a final walk along their favorite beach was a fitting tribute. And not only did he want to spend some special time with his companion, Mark thought that it would be nice if a few friends joined him to honor Walnut as he made his last trek across the sand.
Little did he know how big the response to his Facebook post would be.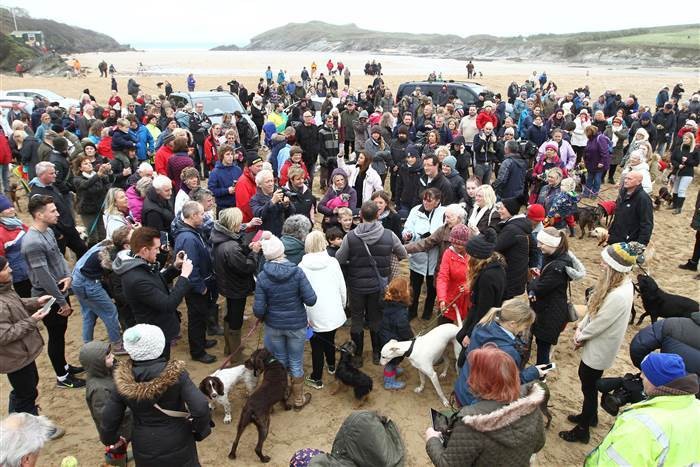 Neil Hope / SWNS.com
It turns out that hundreds of people found out about Walnut's last walk and decided to show up to show their support for the beautiful whippet.
"It was an incredibly humbling experience for me," Woods told TODAY. "I had no idea anyone would come."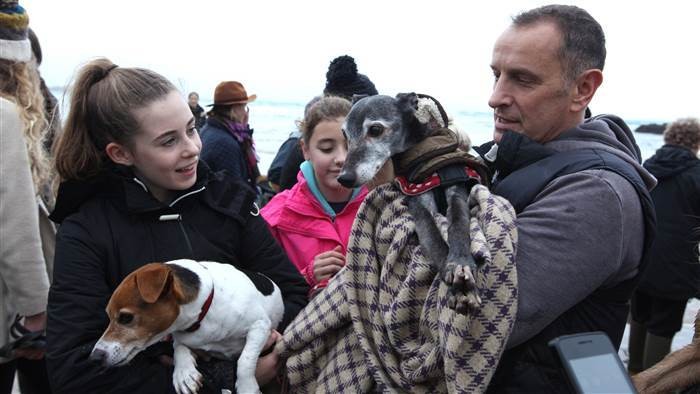 Twitter
As he approached the beach to take Walnut for a walk, he saw a huge crowd of people gathered — some with dogs of their own.
Walnut's final hours were extra special with all of the love and attention he received at the beach. Although he had to carry his weary pup most of the way, Mark states that Walnut was able to put his paws in the sand for a short time. He also played with other dogs who joined him on his last walk — a perfect way to celebrate his life.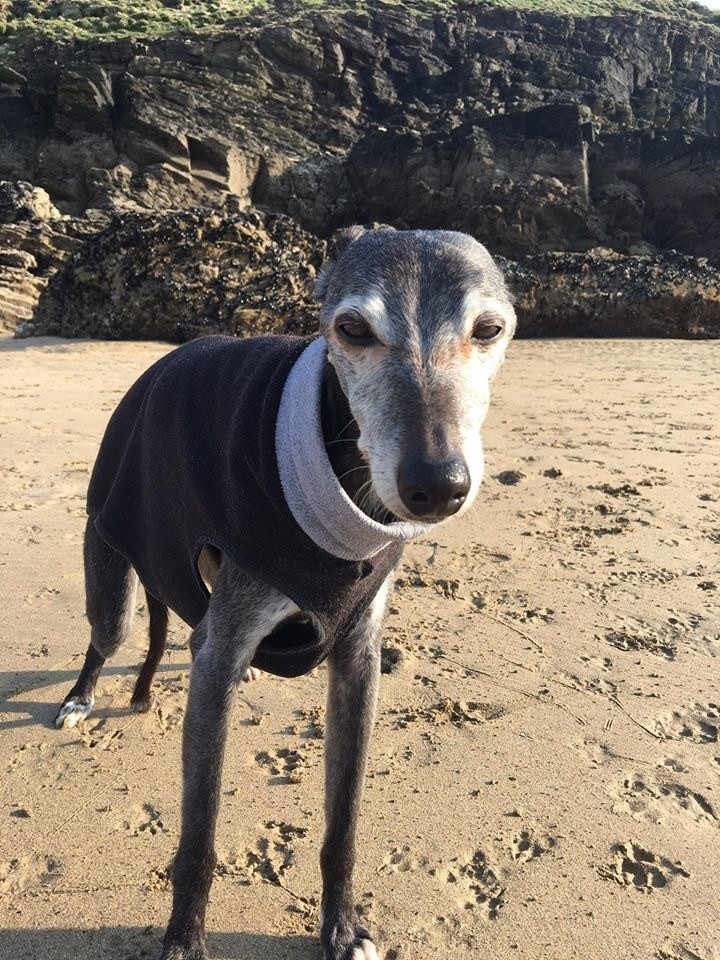 Facebook: MarkDWoods
Woods said that Walnut was "very calm" and seemed happy, but he also looked very tired. It was time to go, but his final walk to heaven was a sweet one.
During his final moments at the vet, Walnut was surrounded by Mark and his family, as well as their three other whippets, Monty, Nelson and Charlie.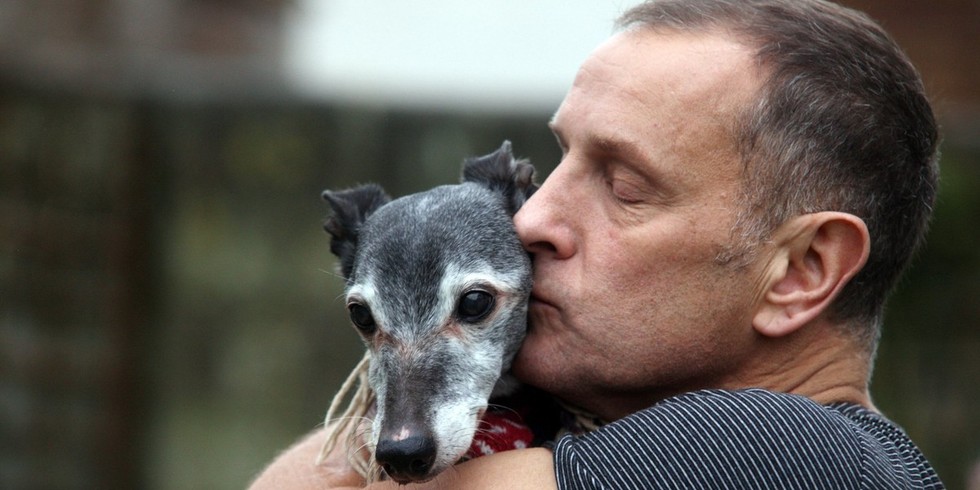 Facebook: MarkDWoods
"He went very quickly and in my arms. I am writing this post because I owe it to everyone who has supported myself, my family and most importantly Walnut," Woods wrote on Facebook.
He thanked everyone who went to the beach to honor Walnut as well as the hundreds who sent him messages and said that his departure was a great reminder of how lucky we are to be alive and to "share in the wonderful world our pets give us."